My father almost died 2 years ago in Bangkok. I got a phone call saying to rush to the hospital's Emergency room as my dad suffered a severe stroke. The doctor asked me what medication he was on, the names of the specific drugs and what were the dosages. I said I don't know so I called my brother to go home and to bring all of dad's medicine to the emergency room.
This took a few hours and sadly is quite common. Luckily dad survived. It then angered me that the doctors did not have access to a persons medication record. I talked to my girlfriend, who is now my fiancé. She is a Lieutenant Colonel and licensed pharmacist in the Thai Army hospitals.
She said that such a patient system does not exist but that a system focused on drug medication, reminders and with proper, accurate, drug information would be extremely useful to pharmacists.
But, in Thailand Big Pharma and Generic drug companies do not have to provide their drug information on ingredients, interactions, allergies, warnings etc to the patients.
This was quite surprising to me, but what surprised me even more was that the Thai Ministry of Health did not have a comprehensive database of all the drugs being sold into Thailand.
The idea of a trusted companion to Pharmacists was born…..what if hospital pharmacists could give this type of system out to their patients. This was the beginning of Pharmasafe. We now have the largest proprietary database of over 20,000 ++ photographed cataloged drug information directly from Big Pharma and pharmacists in Hospitals---even bigger than the Thai Ministry of Health's database.
Advance care system PharmaSafe provides
Personal medication record with you everywhere on mobile and web application.
Drug Identify is easy with photos and leaflet.
Auto or manual medication remider.
Auto adverse drug reaction warning system.
• Fatal Drugs • Drug Allergy • Drug-Drug interaction • Drug Pregnancy Category • Drug Duplication • Overdose
Auto doctor appointment alarm with instruction.
Drug allergy and medication record linked with multi hospitals providing you care.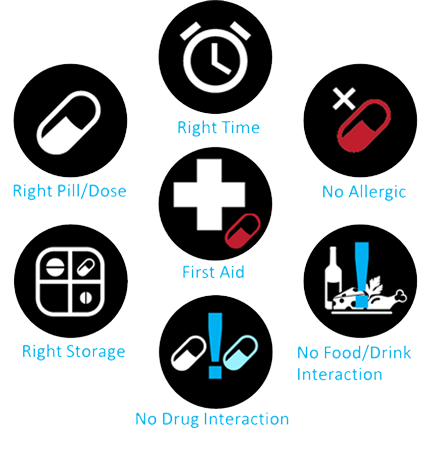 How PharmaSafe helps user increase personal medication safety?
Insufficient drug information could be very harmful. Information such as dosages in different conditions or patients, warnings, dose drug-drug or food-drug interactions, adverse reactions, overdosage, storage suggestion, first aid in case of drug reactions and more. Even though doctors could given detailed instruction, many times, patients could forget and practice medication incorrectly at home.
By providing linked information from any of your medication sources and automate assistant/risk protection system via mobile application, PharmaSafe help you reduce all the factors causing drug misuse and increase effectiveness.